The host organization for blood donation can help to conduct the smart blood donation event more efficiently by ensuring the following.
Logistics
Provide a point of contact for communication with our team. All of the logistics requirements need to be available ahead of the event. List of things to be required in the venue are given in table below.
| SN | Items | Quantity | Remarks |
| --- | --- | --- | --- |
| 1 | Chairs (Normal) | 15 | For volunteers and donors to rest after donation. |
| 2 | Table (2*4 ft) | 4 | For registration and Syringe cutter |
| 3 | Big table (2*6 ft) | 2 | For medical checkup |
| 4 | Food/Juice/Water for donors | no of donors | Refreshment |
| 5 | Event Banner | 1 | Marketing |
| 6 | Printer | 1 | To print donor form |
| 7 | A4 size paper | Half Bundle | To print donor form |
| 8 | Stapler/Pin | 2 | |
| 9 | Multiplug | 2 | Power plugin for printer, syringe cutter and laptops |
| 10 | Wifi | | |
| 11 | Digital screen (optional) | 1 | Can be used to project live event analytics |
| 12 | Dustbin (Big) | 2 | To manage waste |
*Note: Please make sure that our website and donor management app is not restricted in your network.
Donor Management App:
https://donation.hamrolifebank.com/
Website:
Smart Blood Donation Drive Space Requirements
We will need a well ventilated halls of at least 30 ft * 25 ft with good lighting or else we will need tents for outdoor events.

Good internet access is required to register the donors and display real-time data of the blood collected.

The space shall have hygienic environment with good restroom facilities.

The venue should also have multiple electrical outlets.

All of the logistic requirements need to be available at the venue before the event day. Please confirm with HLB team at least a day before the event.
The ideal venue setup for blood donation event is given below.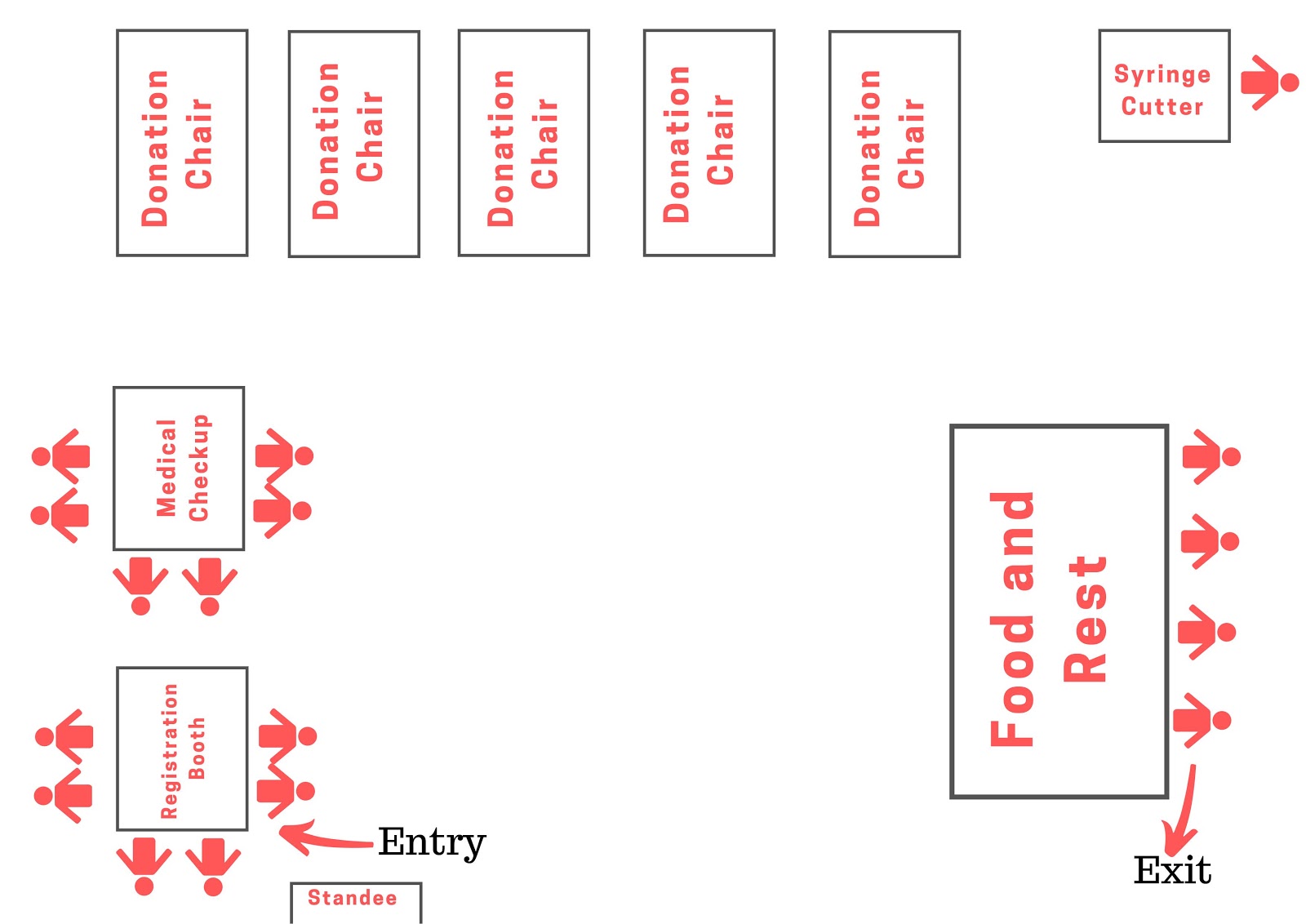 Recruitment of blood donors
Hamro LifeBank will send you a recruitment email with registration link unique to your organization about 1 to 2 weeks before the event.

Once you receive the recruitment email, you shall forward it to all your employees within your organization.

Interested donors can pre-register for donating at the event.

Send a reminder email to all your employees one day before the event.

The success of your organization's blood drive will derive the majority of success to your recruitment efforts.
Sample Recruitment Email to send to your employees
Hello!
We will be hosting a Smart blood donation drive on (date) from (time) to (time).
Blood banks constantly face blood shortage following the rise in its demand and fall in collection. Your donated blood can save upto three lives. If you want to be a part of this noble cause please click the registration link below. The process takes 15 to 20 mins in total from medical screening to blood draw.
In addition, our donation partner, Hamro LifeBank (HLB) will send you a digital certificate, donor card after your blood is investigated in the respective blood bank. HLB's vein-to-vein program will also send you an sms once your blood is dispatched to a patient.
Registration Link: ……….
Listed below are things to remember before donating blood.
You are 18 to 65 Years old and weigh more than 45 kgs.

You have not donated in the last 90 days.

Eat a proper meal about 1-2 hours earlier to keep your blood sugar level stable.

Stay hydrated. Drink water before you donate.

We will need to roll up your sleeves past your elbow when you give blood. Make sure you wear clothing with loose sleeves.

We recommend that you have a full night's sleep (7 to 9 hours) the night before your donation.

Do not drink alcohol at least a day before you donate.

Avoid vigorous exercise or heavy lifting for 5 hours after you donate blood.
"Give blood save lives. Be a real life superhero." Thank You.